Hello everyone!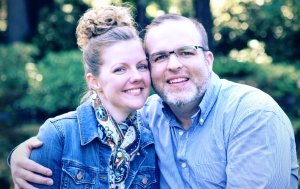 Thank you so much for coming to my little corner of the world!
I would say that my life is defined mostly by my relationship with our Creator. I am a Christian, first and foremost. I strive to be a follower of him and not a fan (see my Fave books for more on this). My husband once told me that I am an 'old soul', which I can relate to. I love vintage-y stuff, music from the 40's/50's and old English writing. I am an introvert, which for me means, I tend to be a homebody. I like spending time with family and friends. I hate having to approach people I don't know. I tend to be soft-spoken. I am not bothered by solitude and quiet. I love music, reading, cooking, learning/trying new things, and sharing my musings. (Whew….that was a lot of sharing!)
I am very happily married to my love, Michael. We have three munchkins, Chandler, Dawson, and Brookelyn, and they never fail to surprise or entertain us. We have two fur babies, Bear and Lucy. Bear is a Shorkie (Shih Tzu and Yorkie mix . . . basically a glorified mutt that is now referred to as a designer breed and you get charged 3 times as much to purchase them). * I digress* Lucy is a full-bred Shih Tzu who happens to have only three legs. Mike likes to say "We have 2 dogs with an avg. of 3.5 legs each". The short of that story is the leg was broken when she was but a wee lass. The vet was able to repair the break, but after the surgery the vet tech wrapped the leg instead of simply covering the incision, as the vet had instructed. Her leg swelled and the wrap cut off the circulation. It pretty much killed the leg. It was very gross and very sad. Thankfully she is very resilient and doesn't know the difference.
So you're probably wondering where we live (What are you a stalker?). Well, some days I think we could be classified as nomads, as we have moved about 11 times since we have been married. I guess you could say that we are trying to find our place of belonging, but it could also be our spirit of adventure shining through. Right now we are currently enjoying the Texas city life and dreaming of returning to the ocean.
So, you're probably wondering why you're here and why I feel the need to tell you all about my crew . . . well, here it is . . .
My first introduction to organic living was through a couple that my husband and I met when living in Dallas, TX (the first time….we are on round 3). They made their own laundry soap. They didn't drink tap water. They would (and still do) carry their reverse-osmosis water EVERYWHERE! They had a special filter for their shower. They wouldn't eat conventional deli meat. They didn't drink conventional dairy milk. It either had to be raw or they went with an alternative, like rice milk. At the time we would mumble under our breath *freaks* and thought they were more than a little nuts. We would razz them about their ways and they would razz us about our lack of healthy habits. They have become some of our closest friends and we love them to bits.
It wasn't till the autumn of 2013 that we started our organic journey (as I like to call it). One of my friends posted an article on FB from Foodbabe.com and it caught my eye. I started reading over Food Babe's different posts and was shocked. I knew that many of the foods we were consuming weren't 'good for us', but I hadn't really considered that they were more chemical than actual food. The increase in obesity and sickness in our country made a lot more sense to me. We aren't even eating 'REAL' food!! It was a 'light bulb' moment and I determined I was going to change the way my family ate.
What I didn't know was that this journey would be like opening Pandora's box and that these changes would permeate almost every part of my life. My goal with this blog is to share what I am learning on my journey and to hopefully inspire you to pursue a more pure, clean lifestyle. There will be other 'stuff' mixed in, as I like to blather on about topics that captivate my thoughts.
*Disclaimer* I am by no means perfected in my pursuits. My family is still learning to make healthy choices. You will frequently walk in my house to find a stack of store-bought tortillas that are not organic, because my kids like them better than bread for sandwiches! I have a love affair with sugar and let's not even start on the 'sweet' part not being good for me either. Our good friends, mentioned above, have a wonderful philosophy that we have adopted: "It's what you do most of the time that matters". When reading this blog, keep that thought in mind. I would also like to point out that I am NOT a doctor. I am not here to dispense medical advice. WhatI talk about on this blog are purely my opinions and viewpoints and are not meant to be taken in any other way. We are imperfect humans, just trying to be helpful and share our experiences.
Health & Blessings
Amanda Smith