As I have hunted for new organic body products, I came across the brand Nubian Heritage.  The company has grown from Harlem street vendors in 1991 to the company they are today.  They offer a wonderful line of body lotion, moisturizer, hand lotion and bars of soap.  I love all the scents that I have tried and am working my way through all the fragrances!  
Features and Benefits of Nubian Heritage Soap
All the ingredients in their products are items you can pronounce. . . always a plus in my opinion.  Here is the ingredient list for the Nubian Heritage Raw Shea Butter Soap:  Raw shea butter, soy milk, vitamin e, frankincense and myrrh.
Their African Black Soap line has anti-blemish, detoxifying & healing properties.  Their Raw Shea Butter Soap is healing and good for all skin types.  Their Black Seed Soap is great for dry skin.  They have 9 different soap fragrances to chose from, each with their own skin-healing properties.  
Pros and Cons of Nubian Heritage Soap
Some reviews stated complaints about the bits of oat in the African Black soap and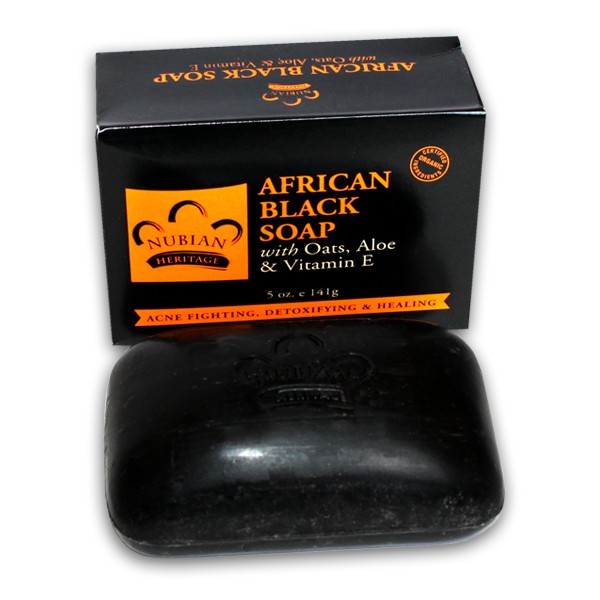 it 'scratching' their skin.  Some also mentioned that this soap didn't actually help their skin breakouts, but made them worse.  
I did notice in the Lavender and Wildflowers Soap that the bits of lavender just end up in the floor of my tub.  Not too big an issue for me though.
Like most organic products, the price can be a point of contention for those making the switch.  If you are used to spending $1 for a bar of soap, you may croak at the $3 / bar price tag.  
On EWG.org's Skin Deep Database, each soap scored a '1' rating.  That is a definite pro!  
The Nubian products do not contain parabens, sulfates, and other harmful chemicals sometimes found in conventional soap.  They are cruelty free and are sustainably produced.  They also use some organic ingredients.
Other People's Opinion of Nubian Heritage Soap
On both Amazon and Vitacost, the Nubian Soap products have gotten mainly 5 Star reviews across all lines, even with the few negative/so-so reviews.  Yes, they are really that awesome!  
And of course, we know I love them, so what else do you really need lol?!
I have yet to find one that I don't like!  They smell truly amazing. . .I am not exaggerating at all!  I got my box from Vitacost.com and couldn't quit sniffing all of the soaps I had bought.
Best Place to Buy Nubian Heritage Soap
I have found them to be cheapest on Vitacost.com and Amazon, where their average price is about $3 for each bar.  You can also check them out on my Amazon store too.  You can also find them at Whole Foods, The Vitamin Shoppe, and CVS.
Final Thoughts on Nubian Heritage Soap
I definitely think this soap is worth a second glance.  Give it a try and see what you think!  They offer some great health benefits for your skin and they smell amazing!