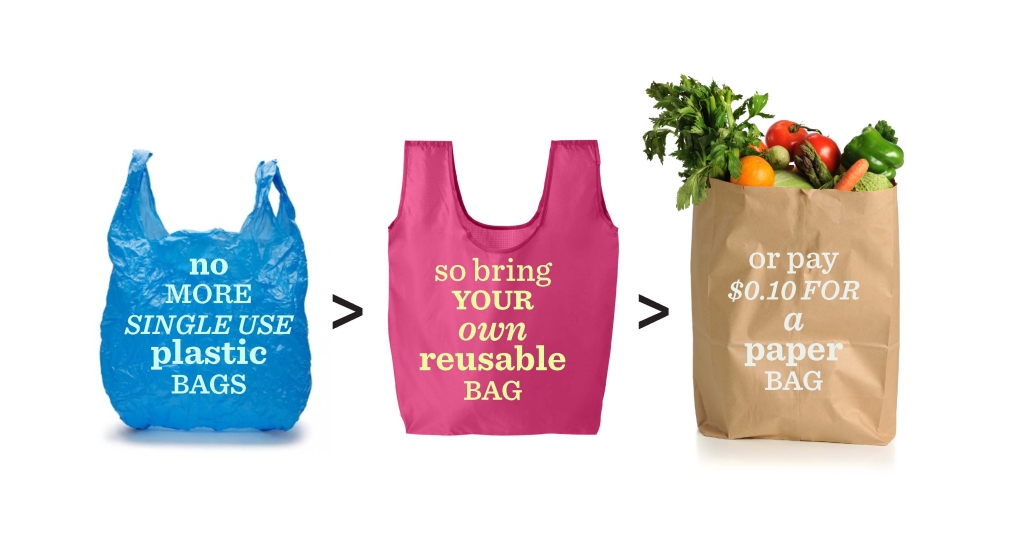 On a trip to Seattle last year, my husband and I went into Target to grab a few items that we had accidently left at home. When we got to checkout, the cashier asked me if I wanted a bag. I kind of felt like saying, "Well yeah, of course I do!" (we had multiple smaller items that would be cumbersome to try and carry out individually). Then a little light bulb went off in my head and I asked "Do you charge per bag?". Ding ding..they charged 5 cents per paper bag! I later learned from my sister-in-law that Seattle actually had instituted a plastic bag ban in July 2012 and only paper bags are allowed to be sold.
Did you know? As of July 2014, bag bans have been passed in 192 cities in 16 states as well as the District of Columbia. In California alone, there are nearly 100 cities with bag bans including San Francisco and Los Angeles. Nationwide over 25 million people live in cities with bag bans or ordinances.
Used to be, the main place you saw people bringing their own shopping bags was at the farmers market. However as people are becoming more aware of the negative effects plastic bags have on our environment, they are choosing to switch to reusable bags. As more cities choose to make this change, it seems like a good idea to go ahead and get on the bandwagon, don't you think?!!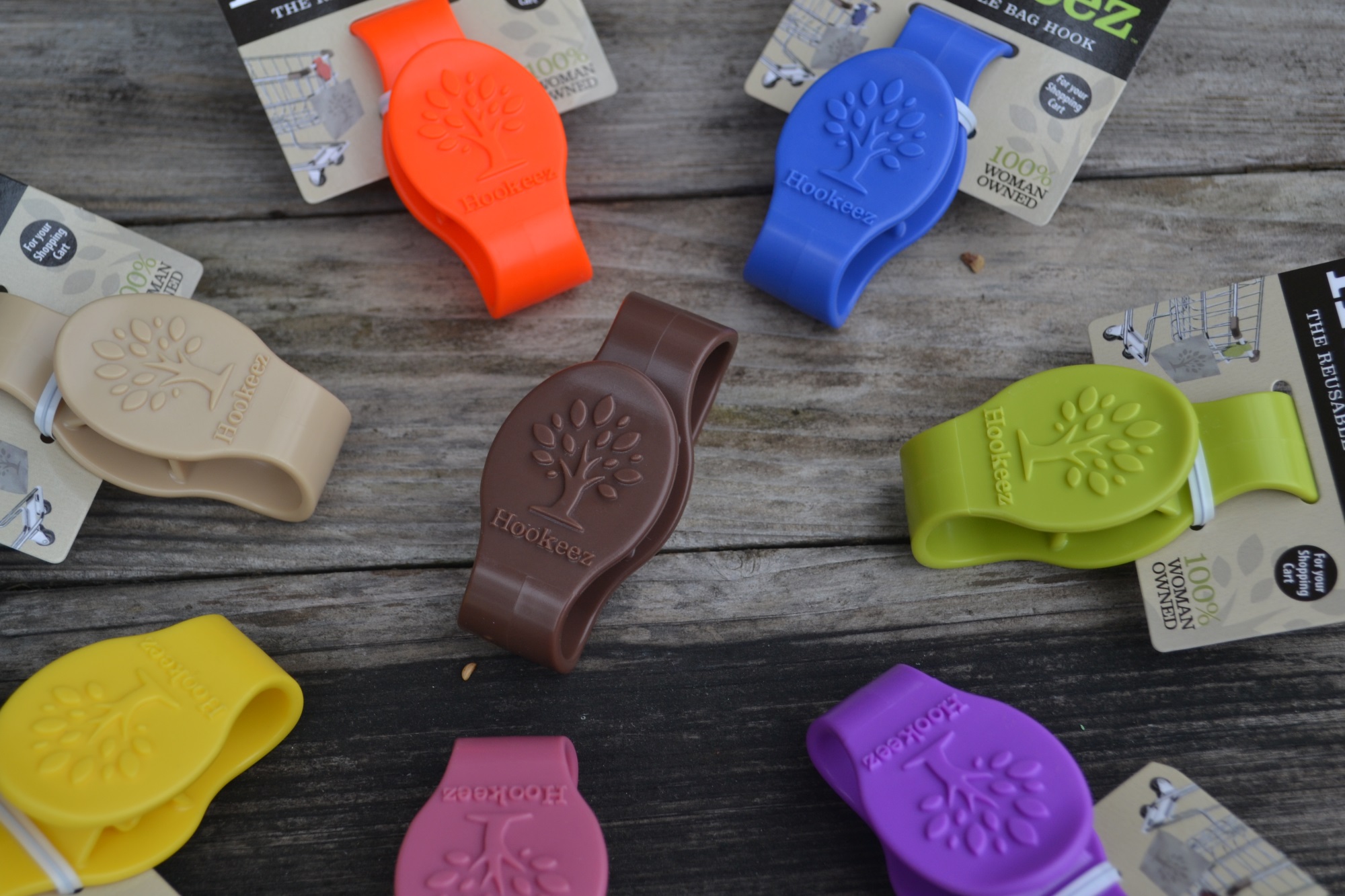 I myself made the switch last year and have made it a habit to keep my reusable grocery bags in the trunk of my car. Most times they are shoved in one corner amongst the other items in our trunk. Then they get brought in the house after a grocery trip and sometimes are left on the counter, until I remember to take them back out to the car. Then there is always the hassle of remembering to get them out of your trunk before going in the store. I can't count how many times I have started to walk into Whole Foods or Sprouts and had to turn around and march back to my car to get my bags. Then if you have little ones, you have to juggle them going into the store, along with your purse and/or diaper bag, and your shopping bags. And don't forget your coupons and the sippy cup! Whew, I am exhausted just thinking about it all! (Feeling a little thankful to be past the diaper bag stage right now lol!) Then once you get in the store you have to try to position your groceries in such a way to keep your bags accessible (and if you have multiple little ones taking up the cart real estate…). But it never fails that when you get to the checkout, your bags are buried and you're trying to yank them out from under the eggs and raspberries without the milk falling over and smashing them.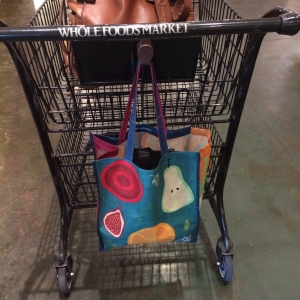 Some of you may be thinking, "Why should I even bother?" But wait!! There is good news to all you, exasperated, exhausted shoppers! Hookeez was created with you in mind! Janae Panzer, inventor and founder of Hookeez, Inc. was an early adopter of reusable shopping bags. While shopping, Janae became frustrated as she attempted to juggle her shopping list, phone, keys, coupons, kids and reusable shopping bags at checkout. She was sure that there must be a better way. She set about designing a hook that could be attached to any grocery cart that would keep her reusable bags accessible and simplify the checkout process. Thus, Hookeez was born in 2009.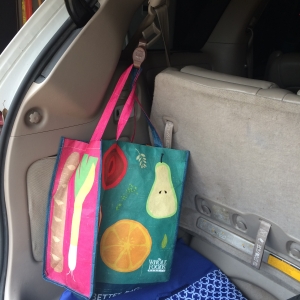 Hookeez is this clever little hook that you snap your reusable grocery bag onto and then it can hang on your shopping cart, while you shop. You can store all your other bags inside and not have them floating all over you trunk or shopping cart. We have a little hook-thing (well-worded, I know) in the back of our van (I believe it's for hanging clothes) that I have been using to hang my bags on with the Hookeez! No more bags getting lost in the trunk! Then to solve the "the bags got left on the countertop" dilemma, I have started hooking them on my clothes organizer that sits next to the garage in the laundry room. That way I grab them the next time I run out the door to the car.
I have been taking my Hookeez with me to the store for a few weeks now and have had multiple people comment on how 'cool' they are. What's amazing is how simple it is, but so versatile. It is made in such a way that it won't fall off your bags. Check out the demo video on their site! It comes in EIGHT fabulous colors! If you have your own business, they even have the option to customize them with your logo! So, these would be awesome for office giveaways or promotional items.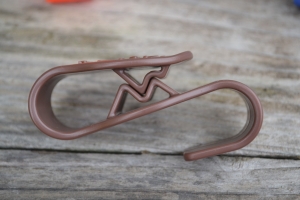 Now you are probably wondering where can you get this little piece of amazing? Well, first off, you can enter our giveaway below! I will be giving away 2 hooks each to 3 lucky people (courtesy of Hookeez)! If you don't want to wait and would like to get a few to drop in stockings for the holidays, you can go straight to the Hookeez website by clicking HERE and pick up your favorite colors. They are $5/each or if you buy 4, you get the 5th one FREE!! They are also available in many stores in the Chico, CA area. You can contact the Hookeez team HERE to find out if they are available in your neighborhood.
*Disclaimer*
I received this item at no cost to facilitate this review. All opinions are honest and my own.
Giveaway Entry Rules: Must be 18 or older to enter. U.S. Entrants only.