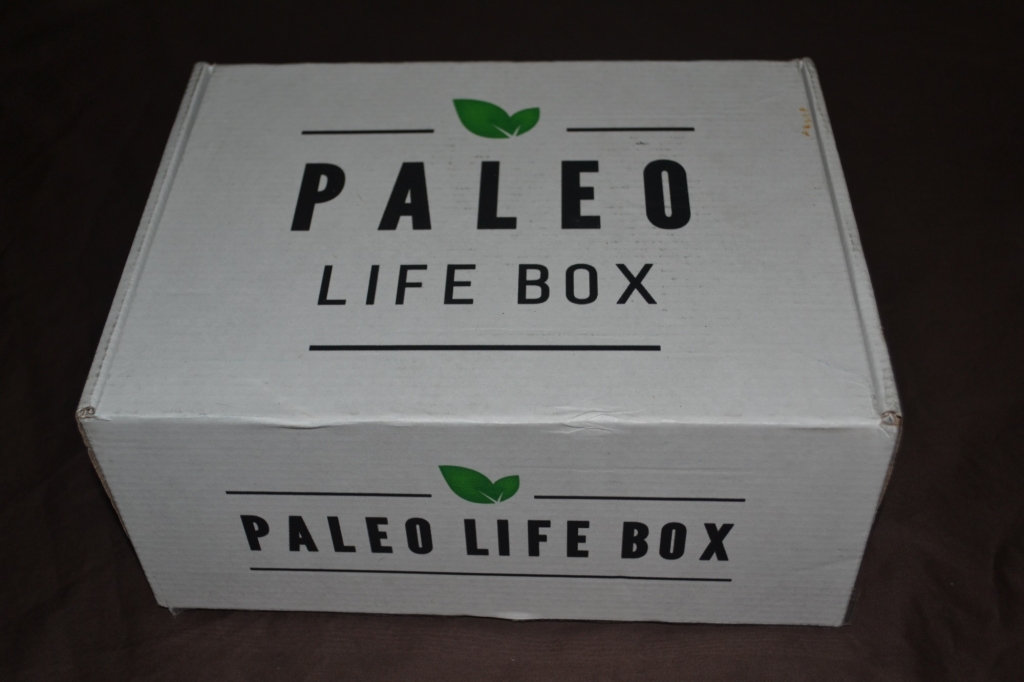 At some point many of you have seen an advertisement for a subscription box, whether for makeup, food, your pets, crafts, etc. There is really a box out there for everything nowadays. What I like most about this idea is you get the opportunity to try a variety of products without having to make the commitment to buying the full version. So if you hate it, no big loss!
I recently was scrolling through Instagram and saw someone talking about the Paleo Life Box. Now my family and I are not 100% Paleo but we do enjoy many Paleo products (TinStar Ghee, Lovebean, Dang coconut chips, etc). I also own at least 5 or more Paleo cookbooks. That said, I couldn't wait to try this box. I signed up for a 3-month subscription.
So here it is…
Features of Paleo Life Box
According to the Paleo Life Box website, you get about 8 to 10 snacks from Paleo companies. Some of which may even be a 'full-size' item. Each month the box will contain at least 3 brand new products. You can expect a mix of meat snacks, bars, cookies, veggie chips, granola, chocolate treats, seed and nut mixes, dried fruit and more. All products will always be Paleo-friendly – grain, gluten, legume and artificial ingredient free.
Paleo Life Box's Average User?
This box will definitely be appealing to someone trying to navigate the realm of Paleo snacking. This community is growing all the time and this is a great opportunity to find great snacking choices that suit that lifestyle. Even if you're not trying to live strictly Paleo (I, at this time, fall into that category), this box is still amazing and has some really great snacks to try.
What's in the June Paleo Life Box?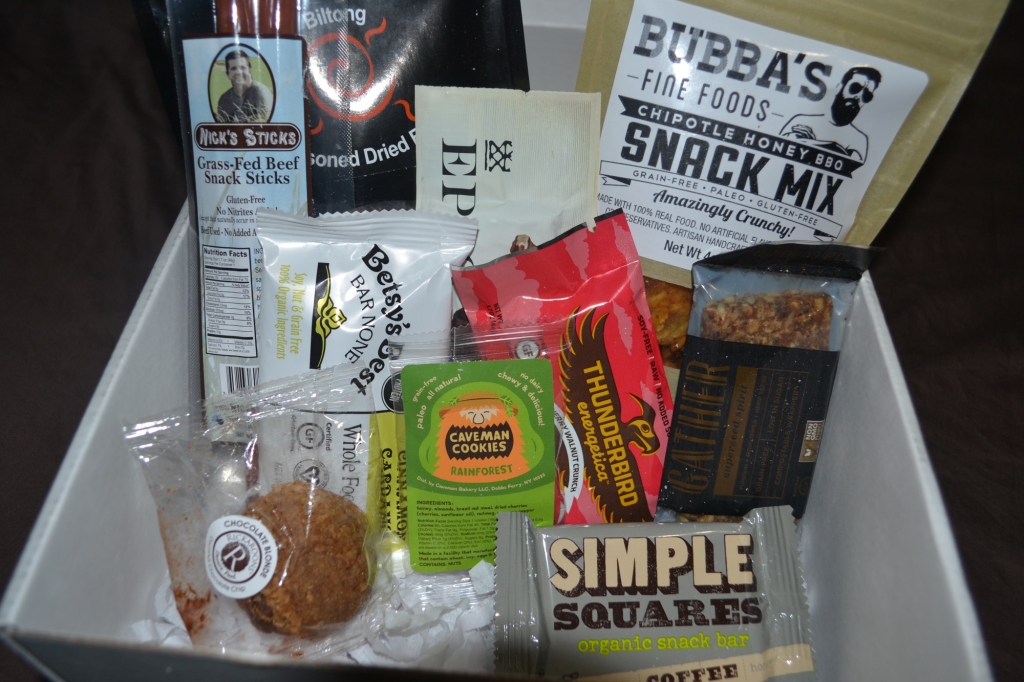 (Keep scrolling to see each individual product)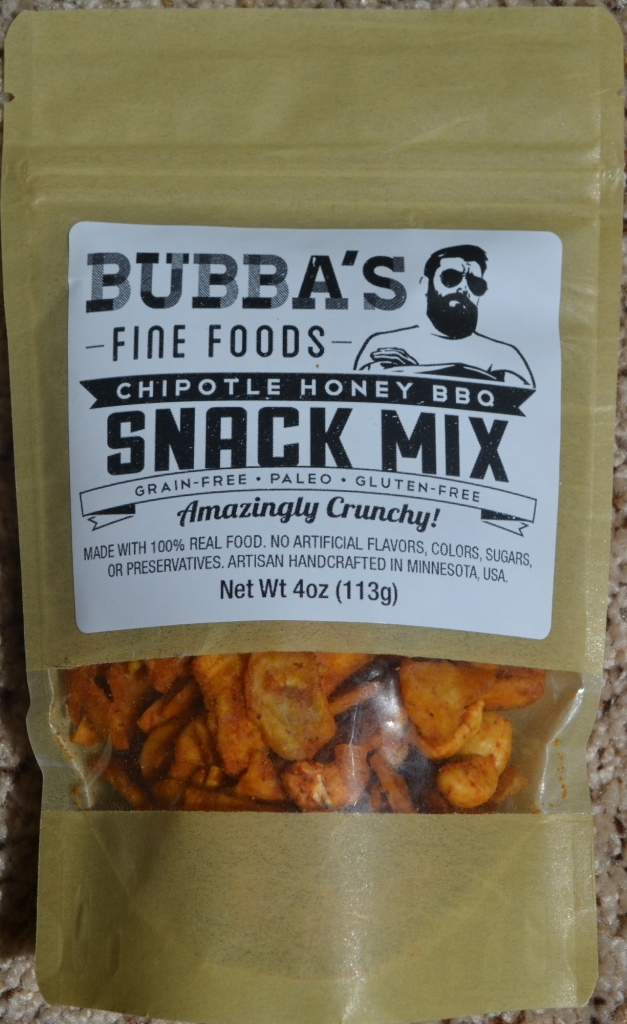 Bubba's Fine Foods Snack Mix: I was pretty pumped about trying these. I found them via Instagram recently and then right after saw that they had linked up with Paleo Life Box. I decided to wait to purchase them and was also super excited to get the flavor I wanted to try!! Good things come to those who wait!! I was not disappointed, because this stuff is quite delicious and addicting. There is a mix of banana chips, pecans, and cashews. The flavoring was oh so good! I will definitely be buying these in the future.

Nick's Sticks: I have been wanting to try these as well, so I was really excited to see them. Many of us who love jerky have to be so careful, because there are nitrates, nitrites, and hidden MSG in many beef stick products. Not so with Nick's Sticks!! The package is considered one serving and I opened mine thinking "Oh I will just eat one and save the other." Ummm yeah that didn't happen. These were amazing and I highly recommend you try them out.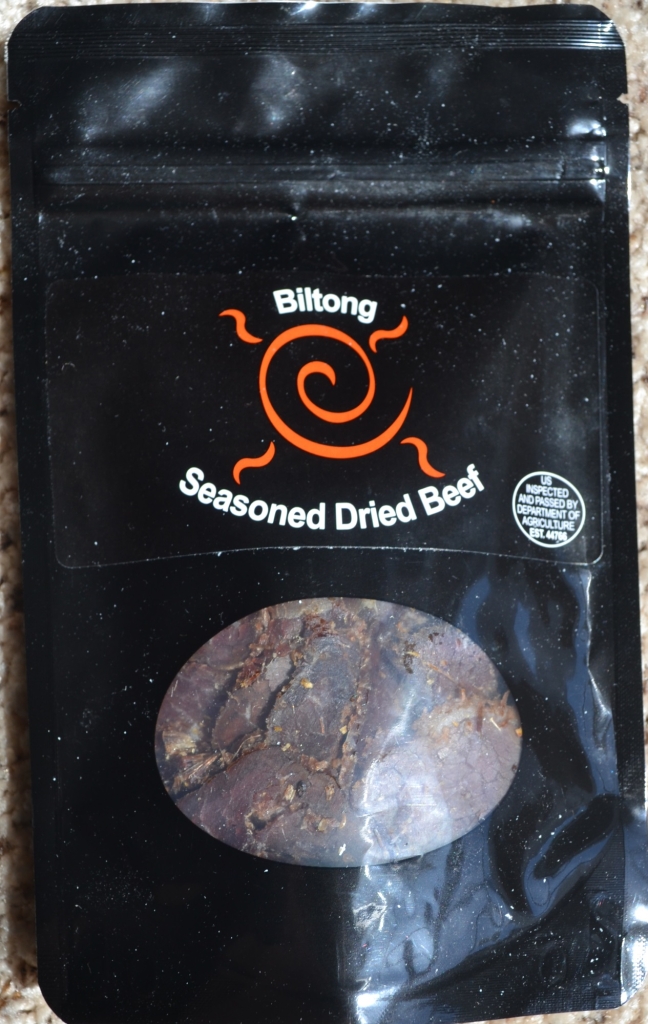 Biltong Seasoned Dried Beef: I really enjoyed this meaty snack. It reminded me a little of the flavor of prosciutto, but not so salty. I liked that there wasn't a lot of seasoning and you could just enjoy the natural beefy flavor.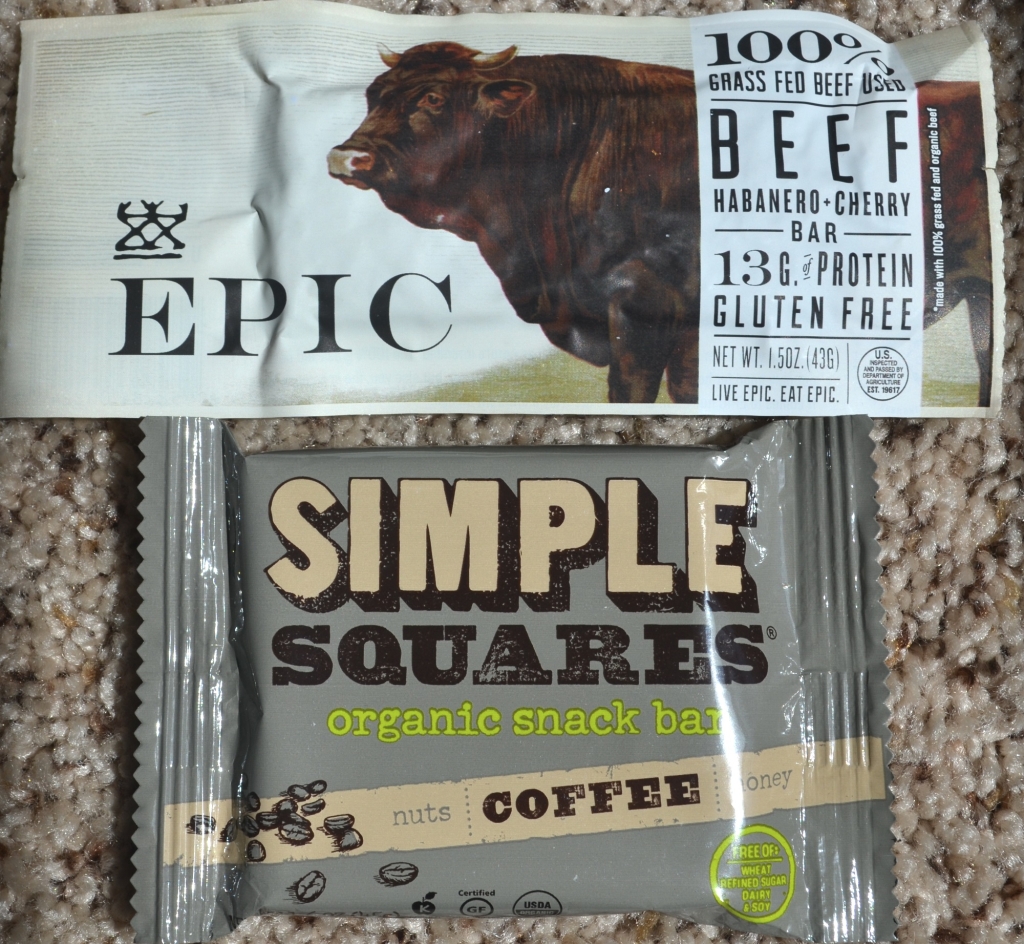 Epic Beef Bar: I have tried many of the Epic products (not this flavor) and enjoyed them all. They are tender, juicy and full of flavor. Like the other meat snacks above, you don't have to worry about hidden nasty chemical ingredients. Only the good stuff here, peeps! If you have never tried them, you need to! They are pretty 'Epic'!
Simple Squares: Again I have tried these before (the coconut flavor) and I LOVE them. The 'simple' title is exactly what they. Minimal ingredients but bursting with flavor! I am so excited to try the coffee flavor. These are great for on the go snacks, after/pre-workout snack, or even a on-the-run breakfast!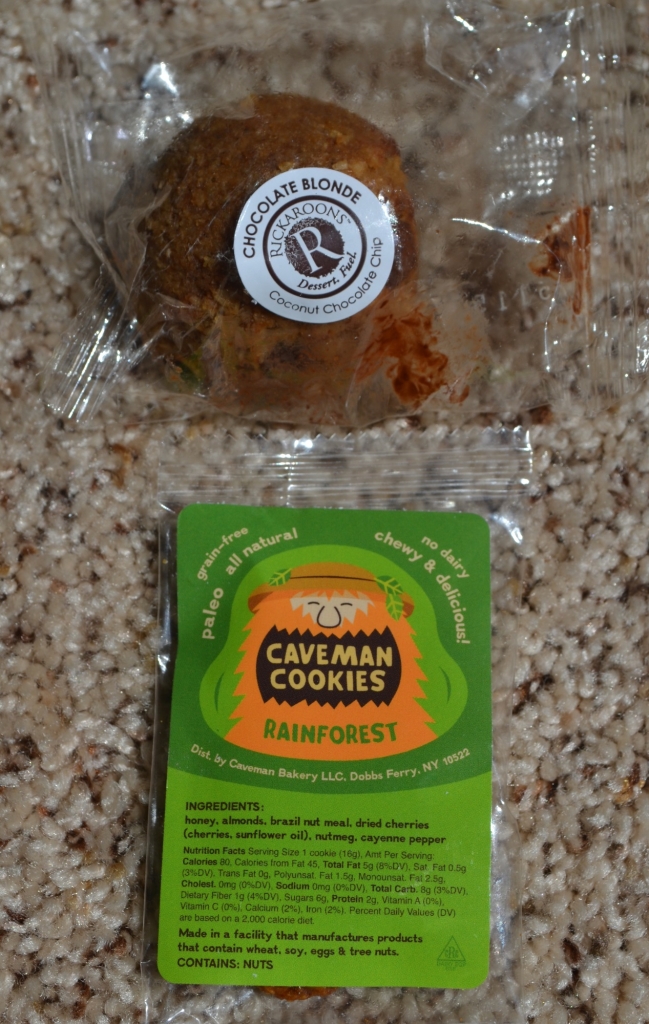 Last but not least we have the Rickaroons Chocolate Blondie. Mine came a little melty, but it's already hitting close to 100* here in Dallas..so it's to be expected that chocolate in the mail will melt. I have been eyeballing these babies for awhile and have yet to take the plunge (I really don't need more reasons to eat chocolate)! So imagine my delight to see them in this box! As expected I LOVED it and was wishing for more once it was gone lol!
Caveman Cookies – Rainforest: I love the Caveman cookies and so do my munchkins. I was a bit shocked that they liked them, because they have a different texture than a regular cookie (due to the lack of flour). However, the flavor is just awesome. We have tried the chocolate/peppermint and the New World flavor. The Rainforest flavor was really good, as well. I didn't check the ingredients before scarfing it down, but definitely caught a teeny bit of the cayenne heat, but it meshes really well with the nutmeg and almost puts off a cinnamon vibe. Definitely going to be buying a box of these soon.
Nitty Gritty of the Paleo Life Box
So, usually everyone will get excited about these boxes and their second question (after "What's in it?") will be "How much?". Well, that is the ONLY con I can see to this box is that it is more expensive than most. For a month to month subscription, you will fork over $35. A 3-month subscription is $99 (0r $33/month) and a 6-month subscription is $186 (or $31/month). They just updated their pricing to show free shipping, whereas when I signed up end up May, it said $4.99/month for shipping. They essentially just changed their pricing to include the cost of shipping and nothing actually changed lol! Good marketing choice on their part though! People like to think they're getting a bargain!
The great news is that you won't have to be as label-reading paranoid as you would with many of these subscription boxes. Because the essence of Paleo is good wholesome (no chemical junk) ingredients. If I happen to notice anything that gives pause, I will let you know when featuring the item.
Final Thoughts on Paleo Life Box
Despite it being higher in price, I have come to know that real food costs more. Therefore, I am good with paying this to get a great variety of Paleo snacks, that I may not otherwise have tried. I liked the variety and wish I would've signed up earlier, because the last month's box looked amazing too! I am really looking forward to July already. I may have to hide some of what's left though, because once the crew sees these goodies, they will be GONE!
If you're interested in signing up click HERE to head over to Paleo Life Box and get ready to have a yummy snacking experience!
*I didn't receive this box or anything in return for this review (but if they want to send me more boxes for free…I will totally accept them and notate accordingly)! All opinions are my own.*