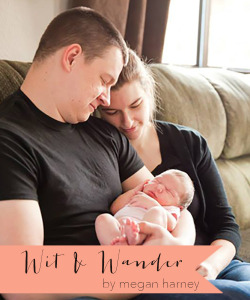 We are so excited to introduce you to Megan Harney from Wit & Wander . She writes about things that adds joy, creativity, and quirkiness to her everyday life. She also enjoys designing inspiring art prints, which she sells on Etsy. Outside of Wit & Wander, she loves traveling, crafting, photography, and kissing her 9-month-old daughter's chubby cheeks.
In all the craziness of the holidays, we don't want to forget that even the little ones have to eat too! So today Megan is going to share one of her favorite baby food recipes, Homemade Squash Purée. Make sure to show her blog some love from Clear Sunshine readers! You can also find her on Facebook and leave a comment or 'like' her page for all her newest posts and designs.
***********************************************************************************************************************
I can honestly tell you that making baby food is one of my favorite times of the week. It usually only takes me about an hour a week to prepare and store all the baby food I need for my nine-month-old daughter. Homemade baby food is not only more economical than store-bought, it is free of preservatives and additives. You don't even need any fancy equipment!
You can make and store great food for your baby using basic kitchen supplies and a couple of ice cube trays. Just peel, core, and chop your fruits or vegetables, steam them for 10-15 minutes, then purée! It really is that simple.
Some vegetables are a little more complicated (But only a little – don't be discouraged!). Squash has loads of vitamins and minerals and has a texture that appeals to most babies.
Here's a simple recipe for homemade Baby Food Squash Purée that is sure to please even your pickiest little one.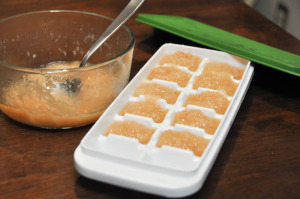 Baby Food Squash Purée
2014-11-16 17:35:55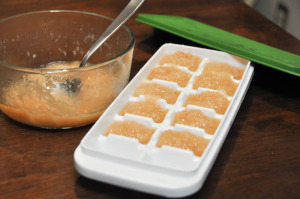 Ingredients
Acorn or Butternut Squash
Cooking Spray
Instructions
1. Choose acorn or butternut squash (or one of each!) that is vibrant in color with a hard stem.
2. Preheat your oven to 400 degrees.
3. Wash the outsides of your squash and slice right down the middle.
4. Scoop out the seeds and membranes of the squash with a spoon (like when you carve a pumpkin).
5. Spray a cookie sheet with cooking spray and place the halves of the squash "meat" or cut-side down.
6. Allow then to bake for about 45 minutes. The outsides will look slightly burnt, but the insides are delicious!
7. Allow them to cool for about 10 minutes then scoop the cooked squash out of the skins with a spoon.
8. Purée your cooked squash in a food processor until it reaches your desired consistency.
Notes
After it's been puréed, you can transfer it to ice cube trays, cover with plastic wrap, and freeze overnight. When the purée has frozen, pop out the cubes into plastic bags that you have labeled with the food name and date. Thaw cubes as needed to feed your little one!
Clear Sunshine https://www.clearsunshine.com/
For a more in depth look at making baby food, as well as a few more recipes, check out my post on How to Make Baby Food (In Less Than One Hour a Week).