When we first arrived in Manta, we went to the Supermaxi. This is a supermarket similar to a Walmart (although not near as big).  Going to the grocery store here was a 'fun' experience.  Our first trip was on a Friday night (Strike #1).  We were there with all 3 kids after they had been cooped up in the car for 4 hours (Strike #2).  On top of all that we had forgot to make a list and not been to the condo yet.  So we really had no idea what all we really needed.  (Strike #3)  However, we managed to get some essentials and make it out in one piece.
There were a few unanticipated differences at the grocery here.
1) Milk and eggs are not refrigerated.  Milk is sold in cartons and both are on a regular aisle shelf just like cereal.
2) The yogurt we have found is more soupy and could be drank through a straw.  Also we haven't been able to find Greek yogurt.
3) Pretty much every item had the label in Spanish and preparation instructions (I know this should have been expected, but it wasn't one of those things I really considered beforehand).
4) There are only a few familiar brand name items and if they come from the States, they will most likely be VERY expensive (i.e. Peter Pan peanut butter was about $5).  Even Ramen was more pricey (50 cents a pack versus 15 cents).
5) Finding yellow variety cheese is pretty difficult.  You will be able to get mozzarella, Parmesan, queso fresco, etc.
6) When you purchase a 'whole' chicken, they really mean a whole chicken. (We didn't realize the head was included till after we boiled the chicken.)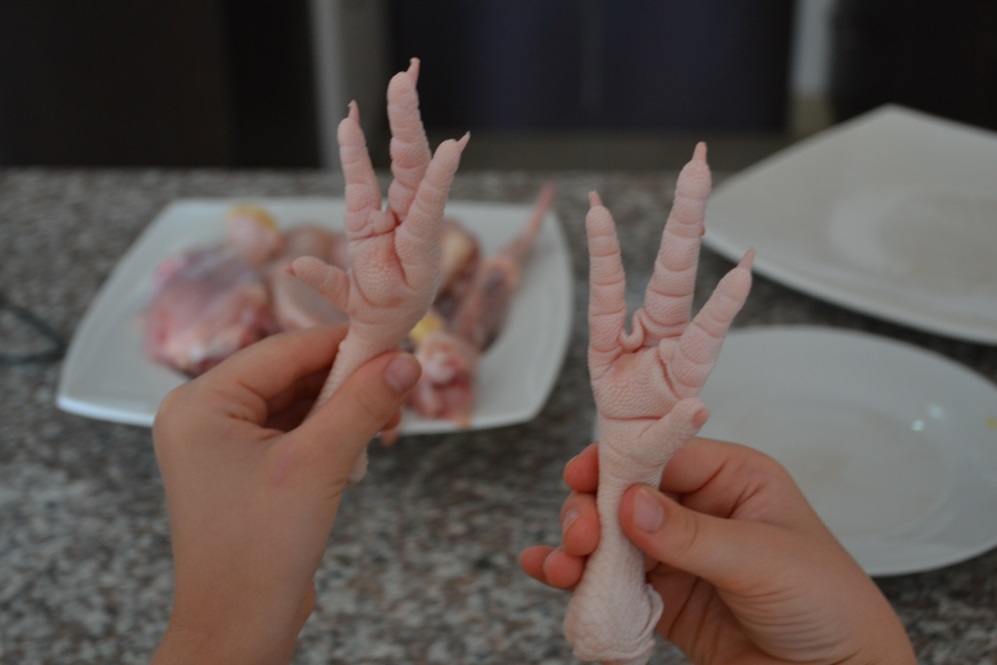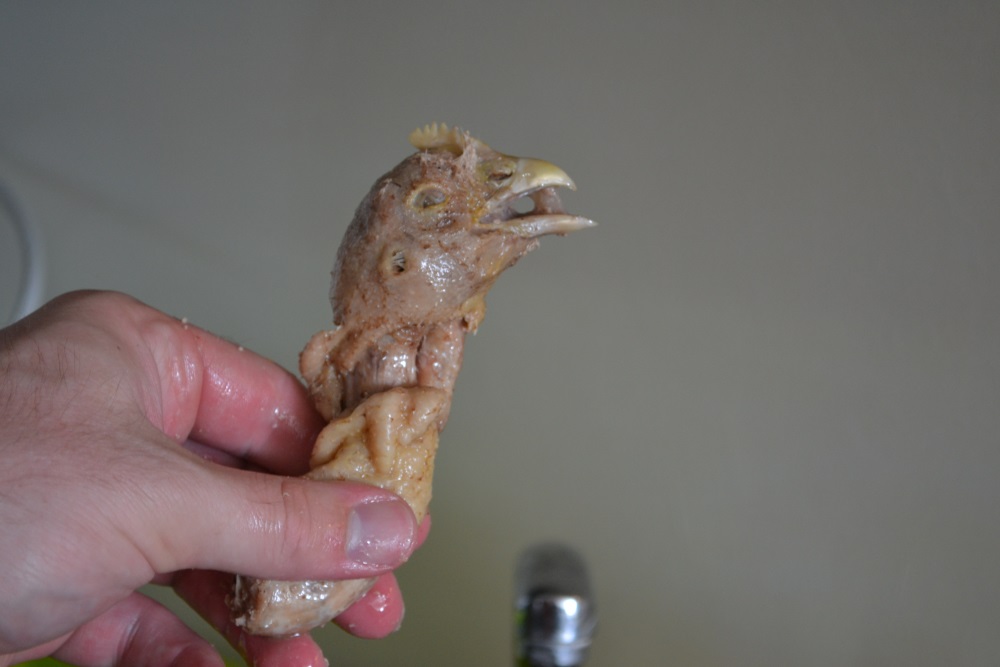 7) You shop with one cart and your groceries are bagged and placed in another.  A employee will walk your cart out, hail you a cab, and load your groceries into the trunk for you.
Another excellent place to shop is the Mercado Central or Central Market.  It has numerous vendors selling fresh fruits, vegetables, meat, cheese, homemade peanut butter, and other goods.  We really enjoyed shopping here and are planning to return on Sunday.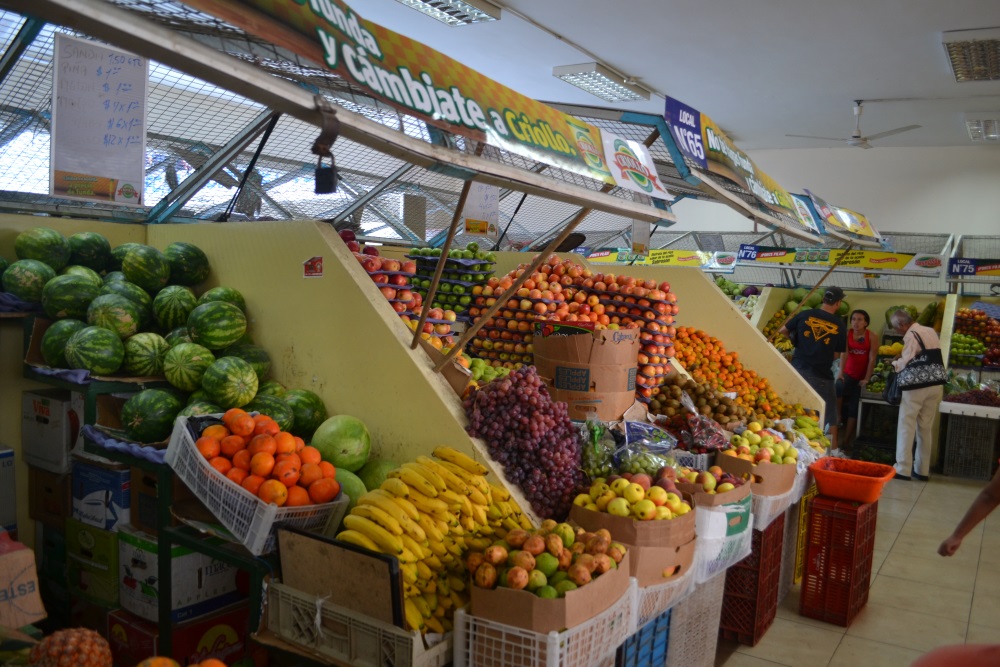 We bought everything you see below for only $9.50
$1 (limes), $1 (seasoning), $1 (strawberry's), $0.50 (pineapple), $1 (apples), $0.50 (cilantro), $1 (garlic), $1 (cheese) $1 (tomatoes), $0.50 (plantains), $1 (potatoes) etc.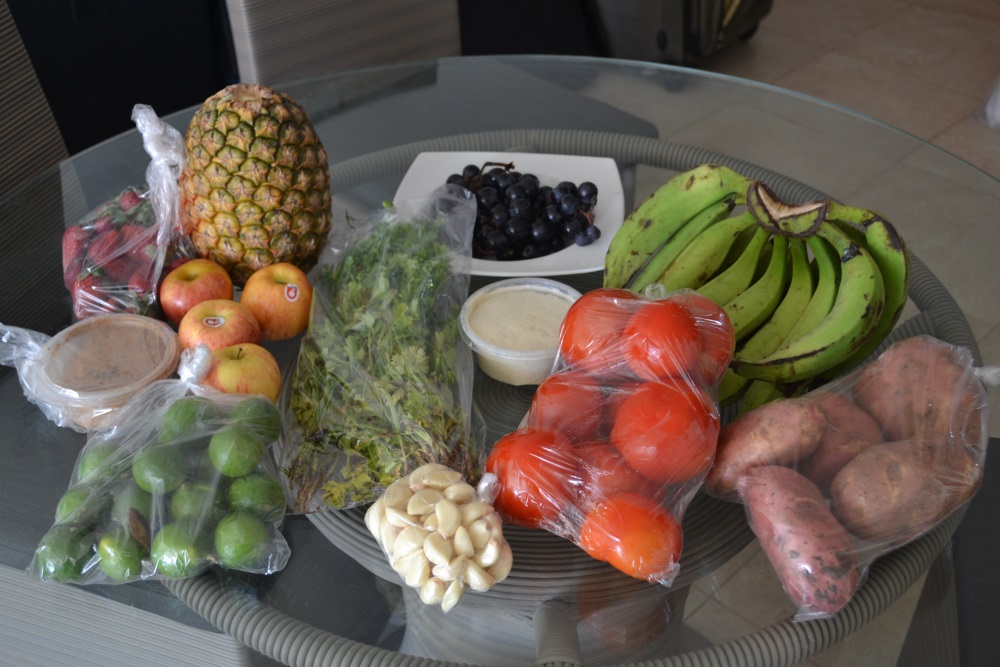 We also went to another store near Mercado Central to get the items we forgot to pick up at our first Supermaxi trip.  This place seemed to be cheaper than Supermaxi and had some items that you could bulk buy, like rice, salt, pepper, disposable plates and cups.
We have also had the opportunity of visiting the local shopping mall, El Paseo.  We were in search of some wash cloths, a pillow and a blanket.  The store we looked in was a mini department store.  They did have pillows ($5 each) and some wash cloths ($0.99/each).  We decided to eat lunch here and guess what we found?  A KFC!!  This was particularly amusing to us.  We chose to go to the Rock 'N Roll cafe which had a 2 burger combo meal for only $2.99.  It was really good too!  Another thing to get used to here is the use of mayo.  They put mayo on hot dogs and hamburgers at the places we have gone to.