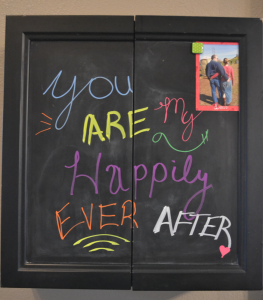 About eight plus years ago, I decided to buy this message board on Pottery Barn that I had been eyeballing for a good while. It wasn't long after I got it that it became affectionately called "The Love Board", because my husband and I would take turns leaving each other little love notes on it. Over the years, it has even inspired a few of our friends to create their own. One thing that has always driven me crazy with it is how most chalk isn't very bright and always leaves that powdery residue, not to mention it can easily rub away if someone bumps into it. I started researching some alternatives and came across chalk markers. I hesitated to buy them because the ones I wanted were well over $30. It wasn't a necessity and so it got set in my Amazon wish list for the next few years. Enter Chalkola Chalk Markers! I was contacted a few weeks back about doing a review on their chalk markers and I quite literally did a little happy dance!
Features of Chalkola Chalk Markers
These markers can be used on so much more than just a chalkboard and that is one reason I LOVE them. Since getting them, I have left messages for my Hunkey on our bathroom mirror (yes, I know some of you are gagging at this point haha)! I have also decorated the window in our homeschool room. I have been using them on my kombucha container, so I would know what date I started the brew. I used them on my chalkboard stickers to label my jars and kitchen containers. I really liked them for this because before I would constantly smudge off the regular chalk whenever I used them.
Chalkola Chalk Markers's Average User?
The truth is that these markers can be used by ANYONE! They are water-based, so moms can hand them to the kiddos for hours full of fun, without worry. Teachers can use them in the classroom. Restaurant or bar owners can use them to create colorful menus that grab a customer's attention! These would be awesome for decorating the windows of the 'get-away' car at a wedding!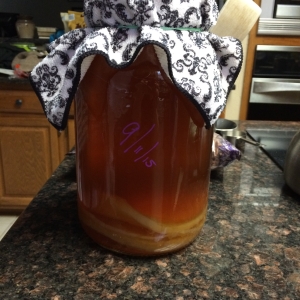 The Practical Details of Chalkola Chalk Markers
Chalkola has two sets of pens available. First is their pack of 8 neon pens with a 15mm rectangular tip with 28 grams of ink AND then there is the pack of 10 neon colors with a 6mm bullet tip. The 8-pack is like having 30 markers due to the amount of ink in each pen!
The colors of each marker is bold and bright. So you get an amazing POP of color with each use. Imagine being able to 'paint' with chalk…this is what Chalkola Markers are like.
The makers are non-toxic, xylene free and odor free.
They also will not make that AWFUL screeching sound like regular chalk does when sliding across the chalkboard.
The chalk markers wipe off easily with a wet wipe or damp paper towels. I like using baby wipes!
They can be used on any non-porous surface….so think glass jars, paper, windows, mirrors, chalkboard stickers….the possibilities are truly endless!
Other People's Opinions on Chalkola Chalk Markers
Some folks on Amazon mentioned the markers not coming off their chalkboards completely. For testing purposes, I went and erased mine using baby wipes. The color came off easily and there wasn't any leftover residue. It may depend on the type of chalkboard you have, so make sure to test a small inconspicuous area before covering a large surface area.
Some commented on the difficulty in getting the chalk to come down. These markers need to be shaken vigorously (they make the rattling sound like a can of spray paint) and then you must press the tip up and down to get the chalk to come out. The only marker that gave me fits was the purple, but other than that all the other colors came out rather quickly.
On the whole people are loving these markers and 88% are giving them 5-stars…including me!
Best Place to Buy Chalkola Chalk Markers
At this point you are probably itching to know how to get your hands on these markers! Before I send you over to Amazon, I want you to know about the awesome discount code that Chalkola gave me to share with you!
If purchasing the 15mm markers, use the following code at checkout to get 20% off your order: CHK20OFF
If purchasing the 8mm markers, use this code: CHALK20A
Click on the pics below to head over to Amazon and get started on your own artistic adventure! These markers would be great stocking stuffers, a birthday gift, etc. Right now they are on sale and along with your coupon, you can get them for an even better deal!! So what are you waiting for?!
Make sure to also show Chalkola some love on Instagram and Facebook.
Disclosure: I received this product at no cost in order to facilitate this review. All opinions are honest and my own.