As you may have seen in my "Adventures in Homeschooling – Part 2", we used Alpha Omega curriculum for home-school during the 2013-2014 school year.  Specifically we used a mixture of their Horizons and Lifepacs material.
I liked the Horizons curriculum for math because it uses spiral teaching progression.  Students are introduced to a concept, which gets increasingly difficult for several days, or even weeks.  It is then reintroduced at intervals throughout the year.  The idea is that kids won't be overwhelmed with a new concept.  They get an introduction to it and then layers are added on to fully teach the concept over time.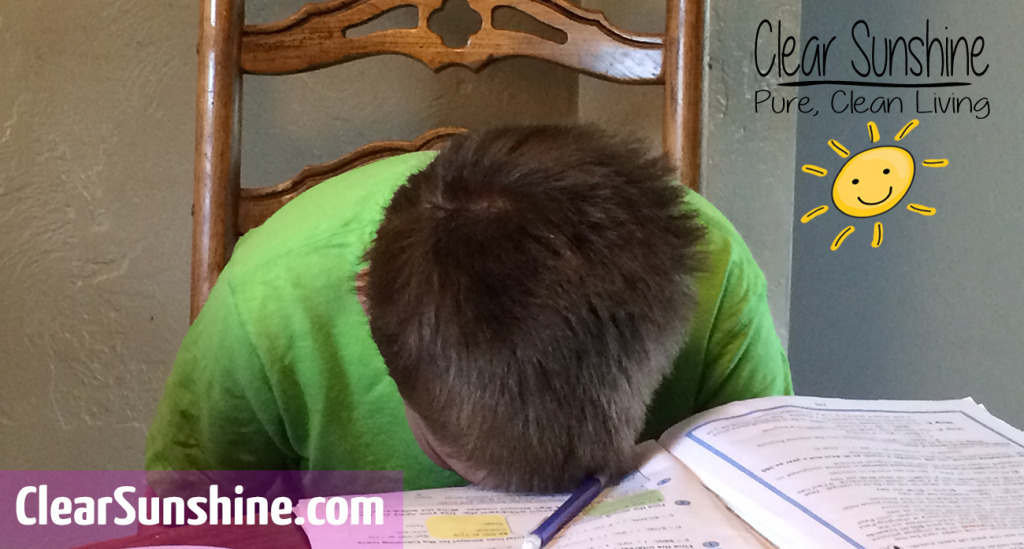 For this reason, I chose to continue using Horizons math this year for my oldest two kids.  I also like that the book is divided into 160 lessons, so the kids know that they have to complete one lesson a day.  This keeps it simple for all of us!
My kids are all pretty active and have a hard time staying focused.  Yes, I know this describes most kids, but 2 out of my 3 of been diagnosed with ADD or ADHD.  It is a real issue for us.  With the Lifepacs, they were required to do a LOT of reading, which when left to themselves, was a disaster.  I found that my oldest wasn't really even grasping what he was supposed to be reading.  He was SO bored and would just space off.   I also didn't like that it required them to be by themselves for a large majority of the day.
For the 2014-2015 school year, I went on the hunt for a new curriculum that would keep the kids together and wouldn't require so much time spent individually.  I also wanted a curriculum that would help to disciple my children.  Our faith is a huge part of who we are and I wanted this to be intertwined in their school time as well.
My Father's World
What I found was My Father's World. This curriculum uses a combination of Charlotte Mason and classical education.  They have a multi-age program for 2nd-8th grade.  There are 5 years of subject material that you cycle through each year, starting with Exploring Counties and Cultures.  The goal of My Father's World curriculum is to keep the family learning together when possible.  The curriculum also integrates the Bible and Christian principles into every subject.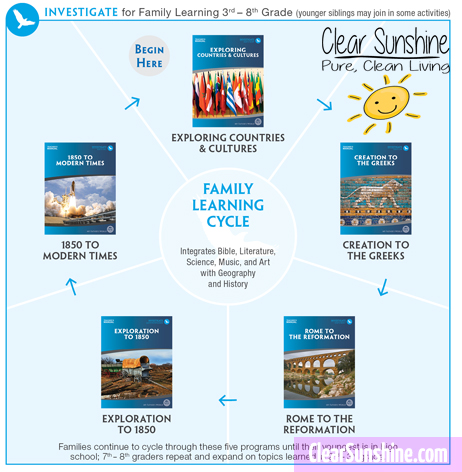 The Exploring Countries and Cultures package (see pic below) includes Bible, geography, history, literature, science, music appreciation and art.  When a child gets to 7th grade additional science, geography and language arts is required.  Math is also purchased separately.

This year we have a 1st, 3rd, and 7th grader.  Since my youngest doesn't fall into the span of this curriculum, we had to buy the 1st grade curriculum as well.  We also had to get the additional materials needed for my oldest, as well as purchase math and language arts.  When I got the boxes in the mail, I didn't know whether to laugh or cry.  I was so excited to check everything out but I wanted to cry because it was very overwhelming!  There was so much stuff and I hadn't the first clue where to start. 
For 7th grade, we had to purchase an additional geography pack to use in addition to the geography that is taught in the main curriculum. For 7th grad Science we went with Apologia, as recommended by MFW.  MFW sold it even cheaper, as a bundled pack and included a curriculum guide.  Score!  For the additional literature, we chose two Progeny Press books, along with their corresponding study guides.  This years choices were Swiss Family Robinson and Anne of Green Gables.
My Father's World – PROS (this list could be much longer, but for the sake of time I'll trim it back):
The curriculum comes with a teacher's manual that almost entirely spells out what you will be doing, down to telling you what to say or ask on certain subjects.  Student sheets are labeled with the Week and Day that they are supposed to be used (i.e. Week 6 M).  For spelling, math, and language arts, you have to fill that it in, but even with those subjects, they give guidance, like how how many pages to complete and the frequency. 
There is a lot of variety, so my kids are rarely bored.  Most subjects are only allotted 10-20 minutes (math is given a full hour).  This helps to ensure that kids with short attention spans are kept engaged.
This curriculum incorporates all types of learning. . . so if you have a kinesthetic or linguistic learner, they will benefit from this curriculum.  
You can adapt this curriculum to fit the needs of your family.  
I love that we spend most of our school day together.
My Father's World – Cons:
Cost – Our total spent on MFW was $1080.35 (7.95 of that was shipping).  Then our order for math on the Alpha Omega site was $164.11.  That brought us to a grand total of $1244.46.  This was almost double what we spent for everything with Alpha Omega the prior year ($687.52…we had a 20% discount though.  So without the discount, we would've spent $859.40).  The good news is that we will spend about $261 less by not having to purchase a separate curriculum for our (currently) 1st grader.
Before we started the school year, I had a hard time figuring out how to incorporate my daughter into Exploring Countries and Cultures.  I didn't want her doing nothing or playing around during this time.  There weren't a lot of resources to help with this; online or otherwise.  Once we got going though, it was easier to find ways to incorporate her into their curriculum.  I was also able to find a good rhythm of when it was best to work with her alone to do her 1st grade curriculum. 
~~~~~~~~~~~~~~~~~~~~~~~~~~~~~~~~~~~~~~~~~~~~~~~~~~~~~~~~~~~~~~~~~~
I think it is obvious that I love My Father's World.  It has brought an element of structure to our homeschool day that wasn't there before.  My kids tell me how much they like school now and have actually asked to do extra work in the evenings.  This was never the case before!  I would highly suggest this curriculum to anyone looking for a: Bible-based curriculum, a program that keeps the family working together, a program that has a lot of variety and, best of all, a program you and your family will LOVE!!
Health & Blessings,
Amanda Smith