Has anyone ever watched a documentary that talks about the meat industry? The antibiotics, the cruel treatment of the animals, chickens stuffed wall to wall in buildings with no windows, pecking each other to death and trampling each other because they have no room to move or disposing of all the baby male chicks in grinders (without first killing them). It's awful, sickening and had me in tears. Once I saw this, I was half-inspired to give up meat, but then I remembered how much I love bacon and decided I just needed to find a better way to shop for meat. I wanted to know where my meat came from, how it was raised/fed and how it was butchered. Was it allowed to be free-range and pasture-raised? Was it treated humanely?
I looked at different meal delivery services. There are only a few that offer organic meat and it is hard to know where these meal delivery services source their meat. I checked out a butcher shop, but even then not all the meat met the quality I wanted (grass-finished beef, humanely raised, etc.)
I had seen a number of the Paleo bloggers I follow mention Butcher Box (a food delivery service). I loved the idea and signed up to receive their emails in July of 2017. However, I waited till January of 2018 to get my first box (there was a free bacon for a year promo…hello!). One reason I waited so long is that I wanted to ensure that I was meeting my meat-buying objectives and that I was also getting a good deal. I also had to clear out the mountain of beef in our freezer from the grass-fed cow we had bought the summer before.
Below are the top questions about Butcher Box and everything you need to know before you order. FYI: This isn't a quick read, because I tried to be very thorough and cover all the questions anyone could possibly ask. So without further ado, here is my honest Butcher Box review.
Who owns Butcher Box?
Butcher Box was founded by Mike Salguero and launched via Kickstarter in September 2015. The Kickstarter ended in October, with the first boxes shipping in November 2015. You can read more about him here:
https://www.inc.com/christine-lagorio/butcherbox-kickstarter.html
https://www.kickstarter.com/projects/butcherbox/butcherbox-open-your-door-to-healthy-100-grass-fed
Where is butcher box located?
Butcher Box is headquartered in Cambridge, Massachusetts.
What is Butcher Box and how does it work?
Butcher Box is a meat subscription box. You choose how often you would like it delivered, your billing date, size of the box, and the variations of meat you want (beef, chicken, pork).
Where does Butcher Box meat come from?
All of the meat from Butcher Box must pass certain check lists.
Source of Omega-3's, vitamins and minerals
Roosting in barns and special enhancements
Nutritious, all vegetarian diet (forage and feed)
Nutritious, all-vegetarian diet (forage and feed)
All animals are humanely raised and free of antibiotics and added hormones. All meat is flash frozen and individually packaged.
When my meat comes, it does not have USDA Organic seal on it. However, Butcher Box does state clearly that their Pork and Chickens are USDA Certified Organic (see links on each meat above).
What is grass-fed and grass-finished and why does it matter?
Butcher Box cows are allowed to free-range feed on grass, year-round with access to shelter. They are never fed grain or kept in feedlots. This means a higher quality of meat with more vitamins that tastes so much better. We have been blown away by the quality of the steaks (sirloin, rib eye, filet) we have received. The quality and taste is noticeably better.
Most cows that are commercially raised are separated from their mothers immediately after birth and never allowed to nurse. Female cows have very strong maternal instincts and so the separation is very distressing, with the mother and calf making loud calling noises trying to locate one another. Let's be real…that is freaking awful and sad. This is not the cases with Butcher Box cows. They are allowed to stay with their mothers and nurse for the first 6-9 months of their lives.
What comes in each Butcher Box?
You have multiple ways to customize your box. You can choose from:
Beef and Chicken Box (what I get most of the time)
Mixed Box Box (Beef, Chicken and Pork)
Can you customize how often you receive a box?
Yes, you can choose to have your box delivered every month or every other month. So, every 4 weeks or every 8 weeks.
When will my box ship?
You choose your billing date each month. Ours is set for the 5th of every month. This is super easy to change on your account. Generally, your box ships within 3-5 business days of billing. On your first order, you should receive your box within 5-8 business days from the time your order is placed.
When will I receive my box?
In general, you should receive your box within 3-5 business days. I have found that we receive our box within 3 business days. This month our box billed on Wednesday the 5th. I received our shipping email on Friday morning, along with a notification that our box had been delivered lol!
Can I pause my subscription?
You can pause your subscription for up to 6 months. Last summer we were in limbo from June till September, while selling our house, moving, visiting family, etc. I had our box on pause for 4 months.
How many pounds of meat will I receive in my box?
This depends on which size of box you choose and the type.
With the Curated Box you don't choose what's in your box…it's a surprise! Then of course the Custom Box is exactly that…you pick!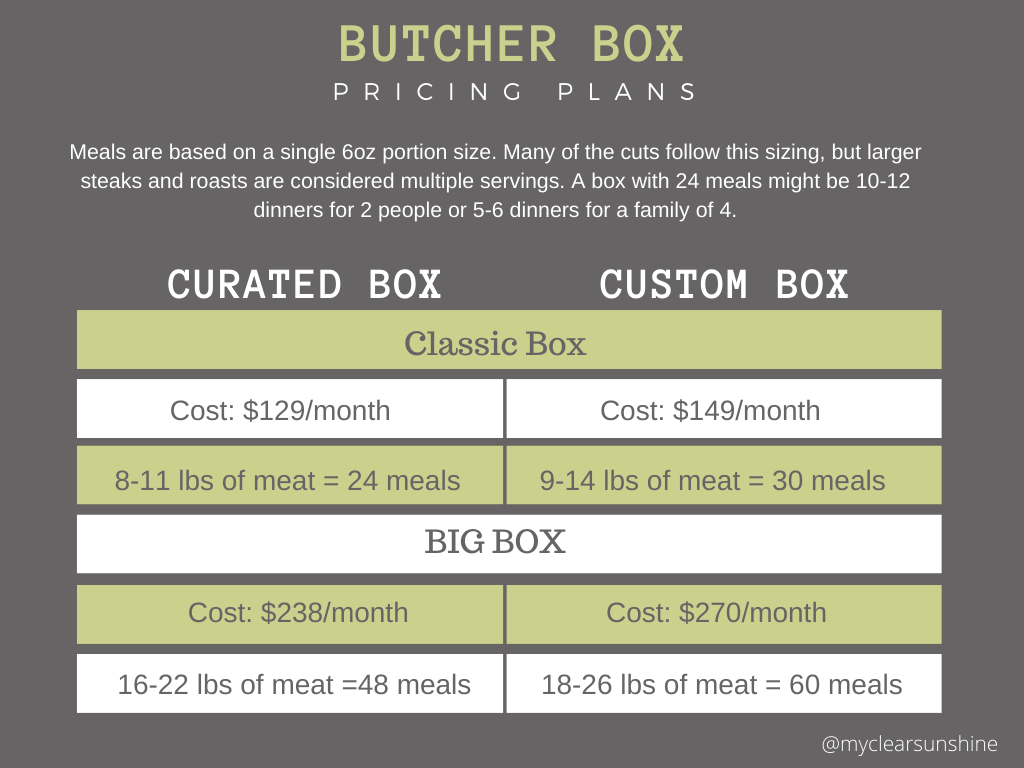 How is Butcher Box meat packaged/sent?
Each Butcher Box is packaged with eco-friendly, biodegradable or recyclable materials. A specific amount of dry ice is placed in a plastic bag to keep your food frozen all the way to your doorstep.
When we first started getting our box, we received our orders in an insulated bag (think Postmates and Door Dash bags) that zipped shut. This was inside a cardboard box with dry ice. Since we moved, our packaging changed again to an insulated cardboard box with dry ice. The dry ice is in a plastic bag and melts off and we just toss that. I love that all the packaging can be recycled and doesn't negatively impact the environment.
I still use my Butcher Box insulated bags, along with my other reusable grocery bags. They are especially handy here in the Las Vegas summer heat.
How much does Butcher Box cost?
As you can see above, your cost will depend on whether you choose the Curated Box (Classic $129 and Big $238) or the Customized Box (Classic $149 and Big $270).
There are also add-ons each month that you can have included for an additional charge. Currently available to me are:
Wild Caught Alaskan Salmon (Bristol Bay) – 2lb/$25 This salmon tastes amazing and fresh. You can also order seafood directly from Bristol Bay's website.
Heritage Breed Bacon – 10oz/$7 This is sugar-free bacon and Whole 30 certified. It is also free of nitrates, nitrites and preservatives. The flavor is amazing. It is not a thick cut. So if that is your preference, you may not love it.
Grass-Finished Ground Beef – 2-1 lb. packages/$15 This is some of the best beef we have ever eaten. You really can taste the quality.
Breakfast Pork Sausage – 1lb/$9 This is free of nitrates and nitrites. I love this breakfast sausage. The ingredients are super simple with an incredible taste profile.
Boneless Skinless Chicken Breast – 3x1lb/$24 We like to smoke these or use them to make my infamous chicken casserole.
Whole Pork Tenderloin – 14-16oz/$9 We don't eat a lot of pork (outside of bacon and sausage) and haven't gotten this yet.
Heritage Breed Boneless Pork Chops – 4-8oz/$14 I did get the Mix box a couple times and received these. I used Balanced Bites Coffee BBQ seasoning and cooked them in a cast iron skillet. My middle child's eyes literally rolled back into his head lol! He asked me why I had never made them before. So, yeah they are pretty amazing. Be careful you don't overcook them. Dry, tough meat is the worst!
They used to have hamburger patties on my add-ons. We have frequently bought these in the past. Price on these were 6-1/3 lb patties for $13. They taste amazing too! Not just saying this lol! We would throw some seasoning on them and slap them on the grill and VOILA! Oh and if you have never put bacon jam on a burger, you need to buy it asap. It is life changing! You will want to eat it everyday.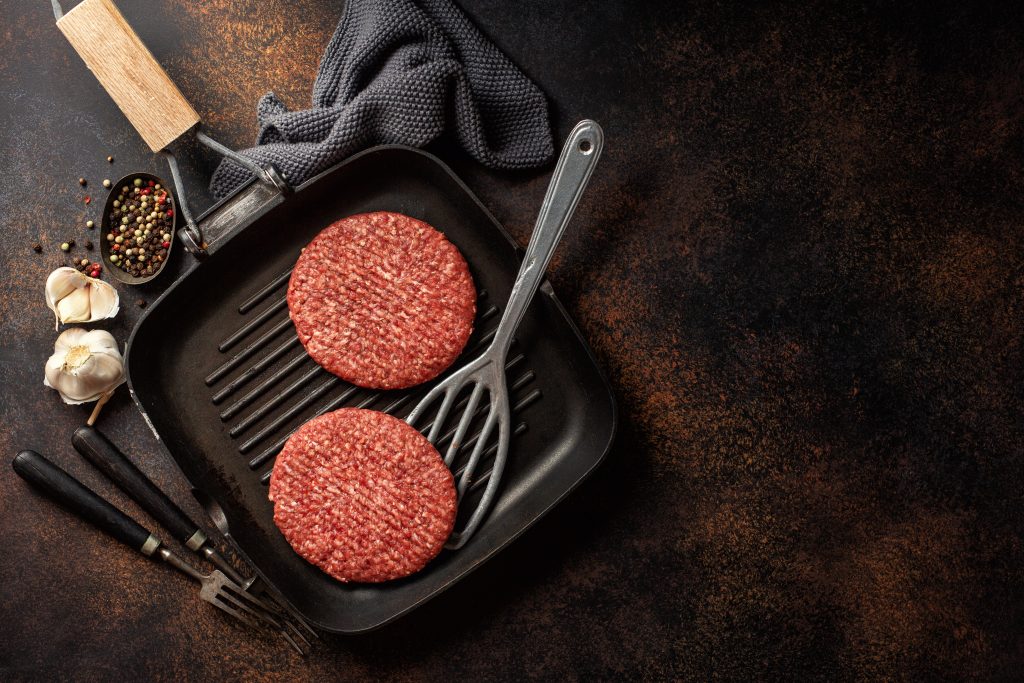 There are also monthly specials to choose from. These specials offer a cost-savings on special items and even items that appear in the add-ons. For example, the salmon mentioned above is available at the price of $67/6lbs right now. That is a savings of $1.33/lb.
The monthly specials change based on the seasons. Like at Thanksgiving and Christmas, they had a ribeye roast that was absolutely delicious. We made it for Christmas. I also love the Bacon Blast they have had the last few months, which was 10 packs of the bacon for $49. I love this time of the year, when they add all the holiday favorites.
One other type of special promotion Butcher Box does is an offer like spend $25 additionally on your next box and get 3lbs of chicken wings every box for the life of your membership. I opted in to this, because during football season, we are making wings constantly.
How do I cancel Butcher Box?
Cancelling your Butcher Box is also super easy to do. You just login to your account, scroll all the way down almost to the bottom and click where it says "Pause or Stop my Subscription". This will take you to another screen where they ask if you want to change your box (downsize) or if you REALLY want to cancel. Click Cancel and there you go. You need to make sure you cancel before your billing date, though. Once you have been billed, it's a pretty fast process and your box may have already shipped.
Is Butcher Box Worth It?
Like I said in the beginning of this review, I did my research and I think it is. The quality and quantity of meat does stand up to the prices of organic meat in your local grocery store or even a butcher shop. Yes, it is going to cost more than the conventional meat you find at chain grocery stores. That meat is full of dyes (to keep the beef and salmon "red") and hormones to fatten them up quicker, which means they can produce and get meat on grocery store shelves faster.
For me, Butcher Box helps take the guess work out of buying meat. I don't have to worry about deceptive marketing techniques like telling my chicken is "natural" (what the what? Like it wasn't grown in a lab?). I can get the highest quality meat that taste amazing, raised humanely without even having to go to grocery shopping.
If you have access to grass-fed beef, free-range chickens, etc…then that is the way to go. I am all for supporting your local farmers and businesses. Unfortunately, I don't have that access at this time. So this is a good choice for me.
Does Butcher Box have a Promo Code or a discount code?
Almost every month Butcher Box has a promotion of some sort for signing up. When I signed up, they were offering free bacon for a year. So I got one free package of bacon in my box for a year. I have also seen where they offered free ground beef for the life of your membership. Occasionally they have done a promo of free filet mignon in your first box.
Aside from the above mentioned promotions, Butcher Box offers a college student discount of $20 off every box. You just have to be registered on myunidays.com to get this.
Whether you are a member or not, you can go to Butcher Box's website and search for recipes, based on the cut and type of meat. I love this, because we have gotten certain cuts of beef that I haven't made before. So, this was a good way to get some inspiration on how to prepare it.
Does butcher box offer an affiliate program?
Sort of. You don't have to sign up for referral credit. Every account receives a referral link that can be shared with friends, family, or all the lovely people you talk to about Butcher Box.
The promo changes constantly. Currently if you sign up with my link (Click Here), you will get $30 off your first box. Or you can wait and sign up later, when they rotate out the promotion.
I had a family member sign up a few months back with my link and we both get 2 lbs of ground beef in each box for the life of our membership.
Butcher Box Customer Service/Phone Number
So say on the rare chance something goes wrong with your order…you have multiple ways to get ahold of Butcher Box.
Chat: Sign into your account and down on the bottom right hand side of the page is a button that says "Chat". Click that and you can speak directly to an agent.
There is also a button labeled "Report an Issue" at the top of your account page, if you need to report a problem with your box.
You can also check out their Help Center for any other questions you might have.
We have only had two issues to date with Butcher Box. One month UPS didn't deliver the box on the day they were supposed to and all my meat arrived completely unthawed. This was UPS's fault though. Butcher Box immediately sent another box out to us.
The second issue was a HUGE delay in shipment. We had gotten one of the monthly promo's of breakfast sausage and bacon. The truck carrying the sausage and bacon to the shipping center was majorly delayed. Butcher Box was holding all shipments on boxes with this promo until that delivery. So, our box ended up arriving almost 2 weeks late. Again, this was a circumstance that was outside of their control and I'm a pretty understanding person, being a small business owner. Both our interactions with their customer service have been good and handled timely.
What if an item is missing from my Butcher Box?
If this occurs, just contact Butcher Box via the ways listed above. Most times they will give you a credit, rather than sending the item out individually. Reasons for this is it isn't cost effective and they can't guarantee the meat will arrive still frozen if the box is under a certain weight.
Alternatives to Butcher Box:
I found about 9 companies that offer similar services to Butcher Box. But only 5 ship to the majority of the US and really address the same goals, such as grass-fed, grass-finished, free-range, ethically raised and sourced.
Summary
I hope this article helped you with all your questions about Butcher Box. Butcher Box may not be for everyone, as there can be pros and cons, depending on your meal planning needs. For our family, I really have enjoyed it. It helps with our meal planning, because you have the meat there and can plan around what you have. It also gives some flexibility when comparing to other meal delivery services, because you aren't cornered into one recipe and can get creative.
Also, for all of you last minute Christmas shoppers, this would be an awesome gift for the carnivores in your life!
*This is not a sponsored post and all opinions are my own. I don't get paid to write this content, so if you do decide to sign up, please use my link (Click Here) and throw a girl a bone (almost literally lol)!