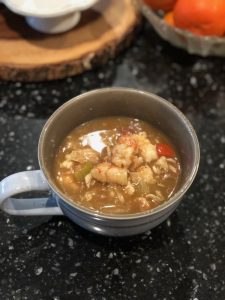 I grew up eating chicken and sausage gumbo. It was one of my favorite foods my mother made when I was growing up. Even now when we visit, she will make a batch of gumbo. My kids even love it lol!
When I got married and we traveled to the South, I would try gumbo every place I could. We recently went to a BBQ place here in Vegas and my eyes lit up to see gumbo on the menu! I probably could not live in the South (especially New Orleans), because I would get even more fluffy trying all the gumbo, etouffee and creole.
I recently bought some Argentinean pink shrimp and Langostino tails (think tiny lobsters) from Trader Joes (Sorry I didn't take pics of the bags. They are in the freezer section right next to each other, though!) I kept thinking that they would be amazing in a creole or gumbo recipe. So, I found a basic gumbo recipe and do what I tend to with most recipes I find…I looked at the basic ingredients and decided how I would make it even better.
One key to making this gumbo recipe actually starts with smoking chickens. My husband created an amazing brine recipe years ago and we routinely smoke a couple whole chickens. Afterwards, I will take the bones, skin, etc and make bone broth out of them. I am convinced this is what makes this gumbo recipe amazing. Not to mention all the yummy gut benefits of bone broth. I will see if I can't sweet talk him into letting me share the brine recipe.
However, you can definitely use regular chicken broth. Keep in mind the flavor will be different. I know my Grandma used liquid smoke in her baked bean recipe back in the day. But, I doubt there is a "clean" version of that out there though.
I think it's safe to say, that this is the best seafood gumbo I have ever eaten. It was super hearty, spicy, but not painfully so, and packed with flavor. If you like more spicy, feel free to add more Cajun seasoning or cayenne. I have a picky eater, so I didn't want it too spicy. This ratio turned out to be perfect. Like it made my nose run a little, but didn't make my mouth hurt. Am I making sense lol?!
*Side note: This freezes really well. To reheat, I just put it in a pot with the lid on, set heat on medium/low and let it heat. Break it up, as it heats, and stir.
Let me know if you try it out and what you think! If you have any questions, leave them in the comments below.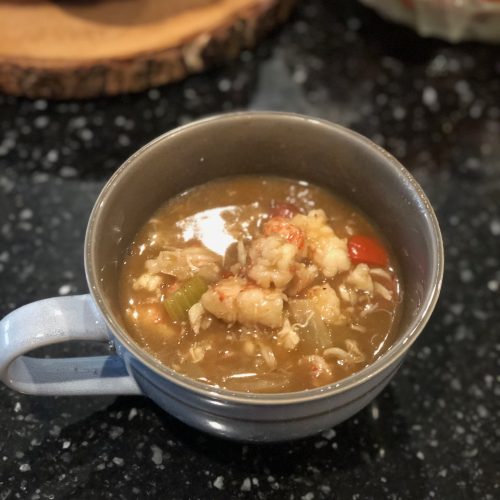 Seafood Gumbo
Ingredients
1

cup

avocado oil

(or any high smoke point oil)

1

cup

flour

(I used 1-for-1 Bob's Red Mill Gluten Free)

1

medium onion, chopped

1

chopped red bell pepper

1

cup

chopped celery

(about 2-3 stalks..chop/freeze leftovers for your next batch)

3

tbsp

minced garlic

1

bottle

pale ale

(I used Deschutes Mirror Pond Pale Ale)

8-10

cups

smoked chicken bone broth

2

tbsp

filé powder

2

bay leaves

2

tsp

Cajun Seasoning

3

tbsp

Worcestershire sauce

3

tsp

salt

1

tsp

cayenne pepper

(or more if you want more heat)

1

pound

shrimp, peeled and deveined

(If you get larger shrimp, chop in to smaller pieces)

1

8 oz. container

crab claw meat

(found at Von's)

1

8 oz. container

jumbo lump crabmeat

(found at Von's)

1

package

Cajun andouille sausage, chopped and cooked

(I used Aidell's)

Hot cooked rice
Instructions
Before starting, prep all ingredients. Let's face it…it makes the whole process go more smoothly.

In a 10-quart stockpot, heat oil over medium heat. Add flour and stir to form a roux. Stir often, until roux is the color of peanut butter. Depending on cooktop, 10-20 min.

Add onion, bell pepper, celery, and garlic. Cook vegetables in the roux for about 5 minutes, stirring often. Add stock, filé, beer, bay leaves, Cajun seasoning, Worcestershire, salt and cayenne. Bring to a boil. Then reduce heat to medium and cook for about an hour. (I was in a hurry and only simmered it for 30 min. Cooking longer basically just helps to soften your veggies more.)

While mixture is simmering, cook chopped sausage enough to brown it. You could just toss it in with the seafood without cooking it, but I like the sausage a little browned.

Add all seafood and sausage to the pot. Cook till seafood is cooked through.

Get your pretty bowls out. Scoop some rice into the bowl. Then ladle the gumbo over that. Feel free to garnish with green onions, if you need even more flavor.