One of our objectives in coming to Ecuador was to become involved with one of the local orphanages.  Mike had found out about one of the orphanages on the website www.mantaexpatsonline.com.  It is run by Al and his wife, Linda, as a free informational site to help people who are new in the area.   They also organize a Gringo meet up a couple times a week (Thursday evenings and Saturday afternoons).  Linda and some of the other expats travel to different orphanages to find the most needy groups and do what they can to help.  She is going to be taking us hopefully this next week to the orphanage.
This last week we went to the Thursday (9/26/13) night gringo meet up.  It was really nice to get out and have some social time, but more importantly to make connections while we are here!  We are the younger ones in the crowd.  Most of the group are retirees that come from the States or Canada (we have also met two people from Australia and Britain).   It is really neat to hear people's stories and what brought them here.
We were then invited to the Saturday meet-up at one of the local restaurants (Las Velas #18) on Murcielago Beach.  The food was amazing!  We also got to meet more of the local Gringos.  We met a couple that had moved here recently from Eugene, Oregon!  We really enjoyed our time talking with them.  We also met another couple and guess where her brother lives?  In Roseburg…the exact town we used to live in Oregon!  It is truly such a small world!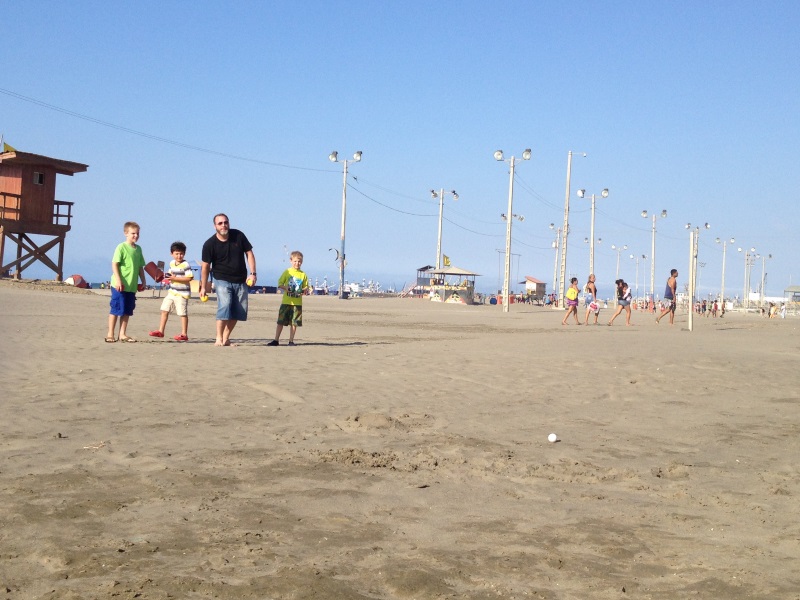 After we ate lunch, Linda and one of our new friends, Brian, took the kids on the beach to teach them to play bocce ball.  It is pretty fun!  The owner of Las Velas has a little boy, Ariel (not sure of the spelling), who ventured out and joined the kiddos in some bocce ball.  He didn't speak English, but it is just amazing what a smile and a high five communicates!  I have to say I am proud of how well our kids have done in their interactions with our new friends.  They have shown respect and been very friendly and open.   I think our kids will be good for some of Gringo grandparents here that miss their families back home.
We are so thankful for the opportunity we have had to meet new people and make connections.  If any of you reading, ever decide to make a visit, I would highly suggest taking the time to stop by a Gringo meet-up.