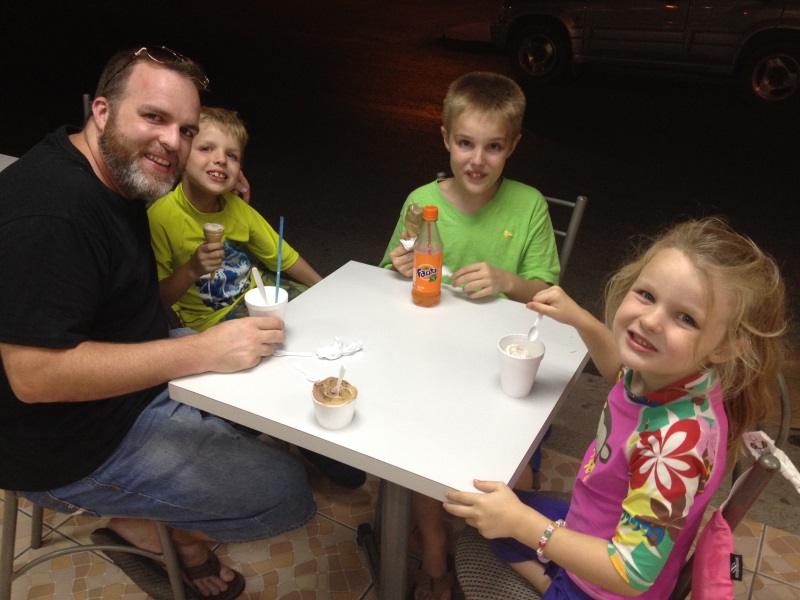 After our Saturday afternoon of bocce ball, the kids played in the sand, while we sat and visited some more.  As evening settled in, we walked over to the area where the Supermaxi is.  There is a gentleman (Juan) who makes homemade ice cream.  It was so so good!  He has a ton of flavors and this is now where Brooke wants to go for her birthday.
We decided to go look at the local movie store.  On the way, we passed a Farmacia.  I have wanted to get mosquito lotion, since the little devils love me so much.  Well, even though I had translated what I wanted to say earlier.  I had no clue what the lady behind the register was asking me.  They speak so much faster than my brain can process the language right now.  We heard someone behind us ask if we spoke English.  When we turned around there was a lady probably in her 30's.  She offered to translate for us. She helped me get not only that but some Dotur for my rosacea.  (Our real estate friend has rosacea and told me this stuff had worked wonders for him).  It is crazy how cheap the stuff is here.  I got a 2 week supply of the Dotur to see how it works and it cost me about $3.
Our new friend's name is Carla.  We ended up talking with her for a good 20 minutes.  We learned she had just moved back to Ecuador from the States.  She has 3 kids and was getting two of them meds and Vitamin C, because they were sick.  We found that she was a Christian and ended up praying for her.  She in turn asked if she could pray for us.  We swapped emails.  It was truly an amazing experience.  God knew we needed help and had sent Carla there at the same time.
 After the Farmacia, we headed next door to the movie store.  Movie stores here are essentially stores that sell bootleg versions of movies.  DVD's are burnt copies and the covers are scanned copies of originals.  My warning would be to never by off the street vendors walking around on the beach (we did and with mixed results).  The guy that runs the store we went to though has very good quality DVD's.  He will even let you test them out to ensure that you are getting English or Spanish.  We got the kids 'Wreck it Ralph' and 'EPIC'.  The quality was awesome.  We then ventured to one of the other grocery stores to price compare. Mi Comisariato Jr was pretty nice and definitely cheaper on some items.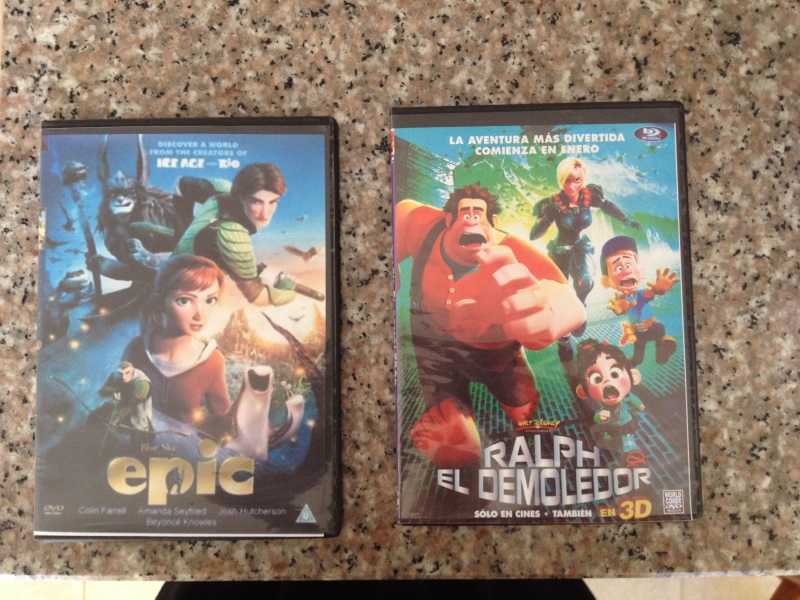 After a full Saturday, we went home and were flat exhausted.  However, we are very thankful for our time here and all the experiences God is bringing our way.