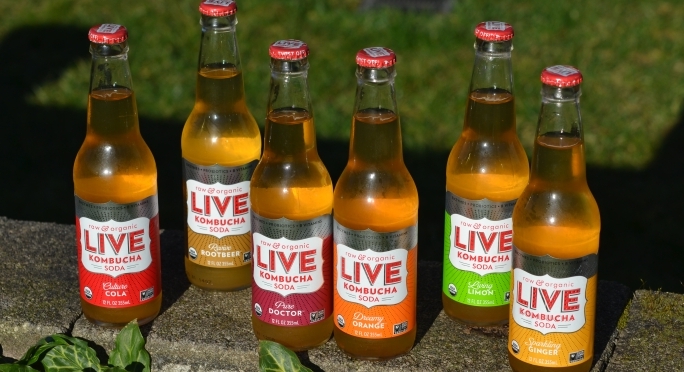 Two Words: Dr. Pepper. It has been my favorite soda since I was a kid. As a teen and young adult, I would love to go to Sonic Drive-In and get a Route 44 Cherry Vanilla Dr. Pepper. It was heavenly.
Fast forward a few years, it became apparent that soda was reeking havoc on my gut. I couldn't drink any caramel colored soda without paying dearly for it later. I finally decided that it wasn't worth the pain and gave up my beloved DP, in favor of a happier gut. I would occasionally indulge in a 7up or ginger ale, but I would feel so sluggish and awful even after those. Then as I began to embark on my organic journey, I read about how harmful conventional soda is to our bodies.
High fructose corn syrup in soda is most likely derived from GMO corn. Eighty-eight percent of corn grown in the US is genetically modified. Some of you may be thinking "Well, I drink diet so…" Sorry to burst your bubble, but that may be worse. Aspartame can still raise your glucose levels and that can lead to weight gain. Aspartame has also been known to cause birth defects, along with many other health issues. Just go to www.mercola.com and type 'aspartame' in the search box. I think you would be surprised at all the horrible ways this chemical can hurt your body. The caramel coloring in soda is a known carcinogen (cancer-causing agent). Nearly all aluminum cans are lined with BPA, which has been linked to infertility, obesity, diabetes and certain types of cancer. So, why on earth knowing this would you want to put it in your body?
Now that you know why you should leave conventional soda on the store shelves, let's talk about this awesome company I found a few months ago via Instagram, called LIVE Kombucha Soda. It is essentially kombucha with the flavor of all your soda favorites, e.g. Dreamy Orange, Revive Rootbeer, Living Limon, Sparkling Ginger, Culture Cola and (you guessed it) Pure Doctor!! I am not kidding when I say this stuff is a perfect and wonderful substitute for Dr. Pepper! My kids even told me they would rather have this than soda (which is good, because they know I won't be buying them soda lol)!
Features of LIVE Soda Kombucha
While the Kombucha message is spreading, I find many people don't have a clue as to what it is. Kombucha (kom-boo-cha) is a naturally effervescent, fermented, probiotic beverage. Most people think that the only way to get probiotics is to take a supplement or eat yogurt. Thankfully when you drink kombucha, you are getting all those lovely gut-balancing probiotics. This is a great alternative for those of us who can't handle dairy!
Kombucha is created by taking brewed tea, a SCOBY (Symbiotic Colony Of Bacteria and Yeast) and sugar and allowing it to ferment over a period of 6-30 days. The longer it ferments the more sour and less sweet it will become. The SCOBY metabolizes the sugar and tea and transforms it into a liquid that contains billions of healthy probiotic micro-organisms along with organic acids, active enzymes, amino acids, and polyphenols.
LIVE Kombucha Soda contains all those lovely probiotics, which means you are getting all the wonderful flavor of your favorite sodas and all the health benefits of Kombucha! Click Here to learn more about Kombucha!
LIVE Soda is also USDA Organic, Non-GMO, Fair-Trade, and 99% raw kombucha.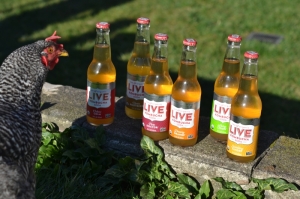 The Practical Details of LIVE Soda Kombucha
LIVE Kombucha Soda is 99% Raw and the tea they brew is Organic Fair Trade Certified™ and they use Organic Fair Trade Certified™ Evaporated Cane Juice to feed the kombucha SCOBY. After fermentation they use organic stevia to sweeten the kombucha.
I love this list of facts provided on LIVE's website:
A 12 oz. can of regular soda contains 140-165 calories and 39g of sugar.
Study after study links soda consumption to obesity, diabetes, stroke, tooth decay, and osteoporosis.
A 12 oz. bottle of LIVE Soda contains only 60 calories and 14g of sugar.
LIVE Soda is raw kombucha which aids digestion, detoxifies the liver with organic acids & enzymes, energizes the body with organic B-vitamins and antioxidants, and realigns your digestive system with live probiotics.
If you replace just one regular soda with LIVE Soda every day for a year, you'll save around 30,000 calories and 6,600g of sugar!
LIVE Soda contains more probiotic bacteria than the vast majority of kombuchas on the market today.
Final Thoughts on LIVE Soda Kombucha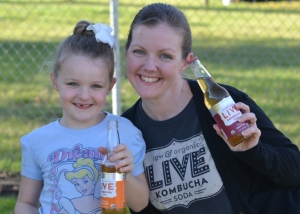 LIVE Soda has made it so much easier for me as a parent to treat my kids without giving them chemical HFCS (high fructose corn syrup)-laden soda. I love that they can enjoy this and not have to worry, because it is actually good for them. I highly recommend you give them a try, because I know you won't be disappointed. Most people who have tried kombucha and didn't care for it, they LOVE LIVE Soda. I have gotten so many people addicted to this stuff! I think you're next lol!
BEST Place to Buy LIVE Soda Kombucha
You can go to LIVE Soda's website and find out where LIVE is sold near you. They are also now sold at Target stores! So check out the Target closest to you!
Now for the really exciting news!!
LIVE has agreed to give 6 LIVE Soda's (They will send coupons that you can use at your local grocer and pick your fave flavors. LIVE needs to be refrigerated!) and a t-shirt away to one of our lucky readers!! Enter via the widget below!
| | |
| --- | --- |
| You get six FREE LIVE Soda's! | One really awesome LIVE t-shirt! |